We're opening the doors to Native Manchester Aparthotel this summer
27 Nov 2018
Our Native Manchester aparthotel, on Ducie Street near Manchester Piccadilly Station is open and everyone's welcome!
We've transformed this former Victorian cotton warehouse into Manchester's most exciting destination. Here you'll find Native Manchester's 166 new design-led apartments, a restaurant, cafe, cinema and a florist. Don't worry though, we've got our priorities in order. The ground floor also includes a fabulous cocktail bar and Blok fitness studios, open seven days a week.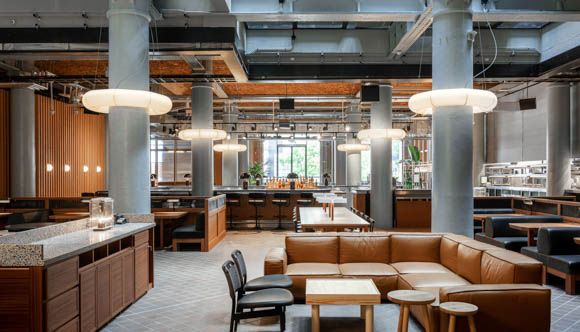 Back in 1867, the building was used to store cotton bails before their shipment to London, which is where it gets its name The London Warehouse. As a result, it oozes industrial charm and character through exposed brick barrelled ceilings, iron frame joists, which are complemented by the bright and open rooms, modern décor and stylish furnishings. We've completely transformed the interiors and decor since it's days as The Place aparthotel, you'll be amazed to see the difference.
Native Manchester
At Native Manchester, we bring together all the elements you might want from a traditional hotel stay but in the comfort of our chic apartments. We want you to have the flexibility to cook, entertain and relax in a home away from home. Each apartment features fully equipped kitchens, offering a space to relax and unwind after a day in the city.
This aparthotel is perfectly situated on the edge of the Northern Bohemian Quarter in Manchester city centre where you'll find eclectic shopping, growing art scene and the buzzing nightlife close by. Let's not forget football fans here, you'll be in the thick of the Mancunian culture and their world-class football.
Book your stay in our Manchester aparthotel.